If you know of any horses that need a home please email me today with the details and we will do all we can to help!
***********************************************************************************************
WE CAN TRANSPORT ANY OF THE RESCUE HORSES LISTED ON THIS SITE TO VA, NC,SC,GA,FL,WVA IF ANYONE IS INSTRESTED AND DON'T HAVE TRANSPORT. WE WILL HAUL FOR .90 cents PER LOADED MILE .DICOUNTS MAY APPLY FOR SOME CASES JUST ASK . ALL HAULING FEES ARE TO BE PAID UPFRONT TO US HERE AT HELPAHORSE !
Purebred Arabian filly ...she is a PMU
she is a real sweetheart ...needs a new home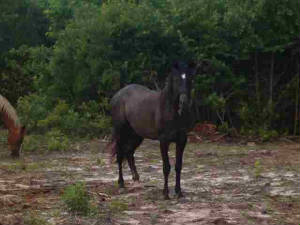 Jazzmine is a pmu filly from Canada. She is a 2002
grey filly. She leads, loads, ties, stands for
farrier. She is not spooky or flighty. She is a fast
learner and would excel in any show ring or at any
performance event. She has been saddled, bridled, and
ponied. She has not had any lounge work, ground
driving, or anyone on her back. Asking $500 with
references, To Good Home Only!
This horse is located in Round O SC ...you can contact
the owner at
keliy23@yahoo.com
or call her direct at 843-835-2526 Or feel free to contact me here at helpahorse .
This filly is not registered but is eligable if a person wants to submit the paperwork and pay the fee .
ADOPTED ADOPTED ADOPTED ADOPTED ...THANK YOU THANK YOU !!
********************************************************************************
This Is SLIM
TB/belgian Cross gelding
Slims leg...he had an old scrape wound ..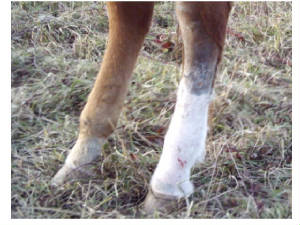 that got bad infected...when the lady found him his fetlock had a place the size of a basket ball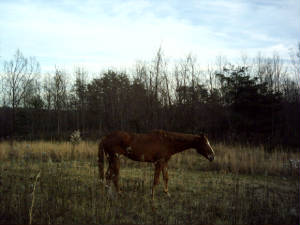 UPDATE>>>>SLIM HAS BEEN ADOPTED >>>>
......................................................................................................................
This is Slim....he arrived at Helpahorse Monday dec 6 th 2004. he was brought here by a lady who togther with her father had rescued him and another gelding from a local auction.He is around 14-16 years old ...he is 16 handish possibly 17 ( got to get the stick on him ) he needs some groceries . He has an injury to his back fetlock. It was a minor thing that was left untreated and it turned into a BAD infection. When the lady bought him at the auction she said his leg was as big around as a basket ball . He vet put him on antibotics and as you can see the swelling is coming down. I will continue the hot epsom salt soaks and get him more meds if the Doc thinks it's a good idea. I don't know much about his training or if he is broke to ride. I do know that small children was lead around on him and he has a very good dispostion and is laid back .
.....................................................................................................................
He will not be available for adoption just yet. I want to keep him here a while to I get him healthy and up to par. There will be an adoption fee on him to recoup some of my expences of getting him updated on everything HE must be adopted WITH Argo listed below.. ! It will not be over $200 UDPATE UPDATE......ADOPTED ADOPTED ADOPTED ADOPTED
*************************************************************************************
This is ARGO a 20 yro Appy gelding
He arrived with Slim !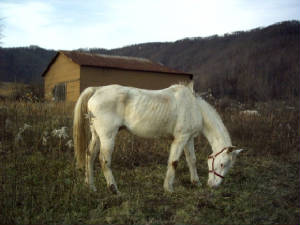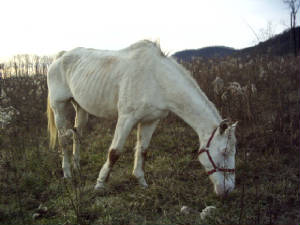 UPDATE ARGO HAS BEEN ADOPTED HE WAS ADOPTED OUT ALONG WITH SLIM >>>>>>>>
This is Argo...he arrived Dec 6th 2004...with Slim the above gelding. Argo is a 20 yro appy gelding( see update below on age). He is 15 .1 and seems to be in good health with the exception he needs some groceries. He is broke to ride and can be ridden with a hackmore or side pull. He has a senstive mouth . He is broke for an itermediate to beginner rider. He is really a sweet boy....he is kind of bossy around his food but who can blame him after what he has been through.
UPDATE>>>12-09-04 Found out some info on Argo from a long time owner of his . She informed me that late this summer she placed Argo in a adoptive home with a signed adoption contract. She was shocked to find out that Argo had been sent to a auction . She informed me that a family situation forced her to place argo in a home.
I found out that Argo is blind in his right eye and only has 40% of his sight in his left eye. I would have never known.. he gets around great . He had also severed a tendon in his right front leg.Although a person could not tell it now. I am hoping she will fax me his health records so I would know how to proceed with everything. She had him untill later this summer . He was used as a beginner horse for teaching lessons. He rides western or english. I am told he has a canter to die for . He is leg controled and goes best on a loose rein. She also confirmed that he needs a hackmore or bitless bridle as his mouth is very senstive.She said he is the ultimate kids horse that he is very trust worthy and there is not a mean bone in his body. He is also tender footed and needs shoes atleast on his front if he is going to be ridden regular. She also said he was well into his 20 's although the paperwork I got with him listed him as being born in 1984 !
He will placed for adoption at an later date . I want to get him fattened up ....There will be a small adoption fee on him no more than $200 just to recoup some of my expences !! If he is adopted he must go with SLIM ...they are buddies and I don't want them seperated ....if they can't go together then they can live here forever !.............................UPDATE UPDATE.......ADOPTED ADOPTED ADOPTED Argo has been adopted out along with slim ....
RHETT a 24 year old Appendix Quarter Horse
Rhett: ( LOCATED IN Moorpark, Calif. Please contact Becky at

bsquire@amgen.com

)

24 year old Appendix Quarter Horse (he is tattooed on his lip, but it's hard

to read)

Approx. 16.1-16.2 hh

Rhett is serviceably sound with stringhalt as his only noticeable problem.

He has been ridden extensively on the trail as a rental horse and prior to

that participated in team penning. He is a sweetheart and very friendly.

He has not been under saddle for approximately 6 months; he was rescued off

a rental string where he was very neglected. Aside from being underweight,

he had a tooth problem that had not been tended to. He can be considered a

"special needs" horse due to the fact he now has a large pocket in his gum

that needs to be regularly flushed out. He also must be on pellets and is

currently eating Timothy pellets and Nutrena Senior. He is a real

sweetheart and loves attention.
THOR .... Approx. 28-30 years old
Thor: ( Update 5-13-05 )I am sad to say Thor had to be put down )
Approx. 28-30 years old
Quarter Horse cross (possibly with some Appaloosa?)
Approx. 14.3 hh

Thor is a sweetheart of a horse who has worked hard in his life. He was
rescued off of a rental string where he was not being fed properly. The
poor old guy doesn't have any grinding surface left on his molars and he was
being fed hay with the rest of the herd (he's not a dominant horse so didn't
get much of what was there). Once we put him on pellets and in an
environment where he could finish his own food, he put back on the weight
quickly.

He has soreness in his right stifle and really just needs a place to live
out his remaining years in peace as a retired horse. He would be a great
companion as he doesn't display traits of dominance and gets along well with
other horses.

Lola ..older Saddlebred mare located in....
Palmerton, PA.
ATTENTION MARE IS LOCATED IN Palmerton, PA.
Owner needs to be guaranteed she
will not be given to slaughter nor to the Amish to be a buggy horse. I want to rest assured that she has a loving home as a companion horse.
She is 21 Years old 16.1 hands . She's by Storm's
fury out of Clover Princess. .Owner don't know if she is broke to ride . She is well mannored and gentle .She is up to date on Farrier ,shots,deworming .
********************************************
Reg TB mares need new homes supossed to be put to sleep but they really need a new home ....located in Winnipeg Manitoba Canada--above N. Dakota.
Olden Holiday (Holi)-age 25-chestnut mare,2 socks on one side, irregular small amount of white on face, sway back.15.3-16 HH
Auld Lassie (Lassie)-age 25-chestnut mare, 2 hind socks, stripe on face. Has a back problem but gets around okay-can walk trot canter. 15.3 HH
Eternal Faith (Beacon)-age 24-bay mare, 2 hind socks, small star on face. 16 HH
Contact Info below ::::
Marlene Johnston
Box 921
Stonewall Manitoba Canada ROC 2ZO
Phone: 1-204-467-8855---hard to reach by phone, so email is best.